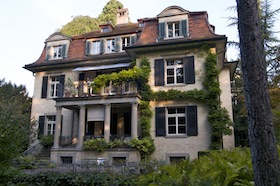 Welcome to the web pages of the Department of Comparative Language Science at the University of Zurich.
News
Arrate Isasi-Isasmendi gave talk at "Linguistic Consequences of Language Contact" Workshop

Talk by Carmen Saldana on August 1st 9.20h EST at this year's 42nd Annual Virtual Meeting of the Cognitive Science Society, within the session called "Comparative and Cultural Cognition". Title: "Rational After All: Changes in Probability Matching Behaviour Across Time in Humans and Monkeys".

Andreas Hölzl to give invited talk in Szeged

"In search of isoglosses: continuous and discrete language embeddings in Slavic historical phonology" by Chundra Cathcart and Florian Wandl

«NFS Evolving Language: ein nationaler Forschungsschwerpunkt zur Sprache» auf dem Blog der SAGW

A bias towards category clustering: new Language paper by Mansfield, Stoll & Bickel
Colloquium in Comparative Language Science
Keine aktuelle Veranstaltung

Für dieses Datum sind keine Veranstaltungen gemeldet.