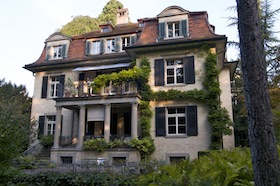 Welcome to the web pages of the Department of Comparative Linguistics at the University of Zurich.
News
New research from IVS members Sabrina Engesser and Simon Townsend, published in PNAS, sheds light on the building blocks of bird vocalisations:

Yoko Yamazaki to give talk at conference "Issues in Baltic Linguistics"

Florian Sommer teaching at JeSSIE

Mathias Jenny, Hiram Ring, Wei-Wei Lee and other members of the V1 project team are giving talks at the 8th ICAAL in Chiang Mai, August 29-31, 2019.

Bickel and Stoll to teach courses at Autumn School

Bickel and Stoll are going to teach courses at the Lake Como School of Advanced Studies.

Welcome to new department members!

Seven new members are joining our department in September.